Last week I posted about painting "en plein air", in anticipation of this weekend's Jericho Plein Air Festival. I returned to the same spot as last weekend. The idea was to see how I do painting the same scene – learning from the first effort and trying to improve.
The festival brought in 75 artists, watercolorists, oil painters, and those using acrylics like me. After an early morning gathering for food and coffee and a group meeting we all headed off to our preferred spots. There were a couple dozen options for painting and only 3 of us ended up at the Beaver Pond in the morning to paint. The weather was beautiful, but there was no shade so by late morning it was pretty hot in the sun. At the end of the day, returning to the gallery to frame our work, we had Ben & Jerry's ice cream waiting, the perfect ending to a hot day.
I spent a couple hours painting the same scene I painted last week. And overall I feel like I did make a number of improvements, and this painting is much stronger than my first attempt.  The great thing about this festival is each person gets to hang one painting from the day at the Gruppe Gallery in Jericho. Its a nice touch to the event being able to go see everyone's work and for others, and the public, to see yours.
Below is the painting I did today. One of 2 paintings actually, I did another small painting in the afternoon as well but it was a quick small painting.
This is 12″ x 24″, same size as last week.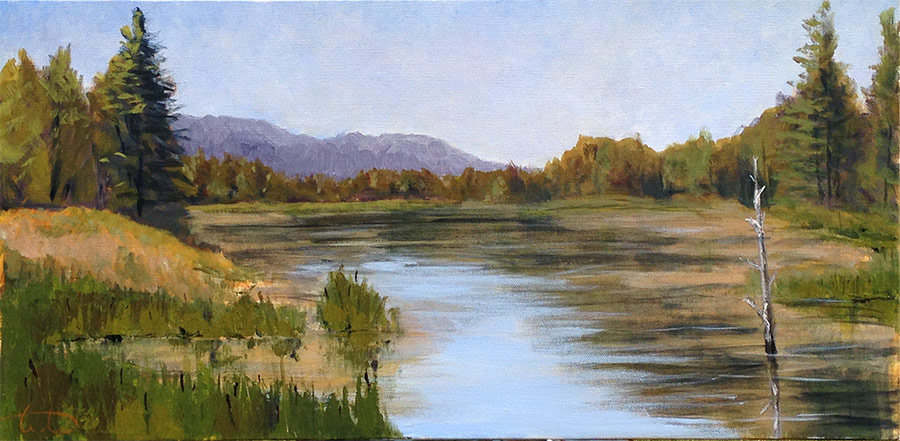 And below, for comparison, is the first attempt last weekend. I am much happier with the overall color, values, and contrast with the above painting. Its looser and has more life. The main focal point, the large pine on the left, works much nicer in this painting against the background and the grass field in front of it. And the right side has nicer contrast and brushwork. The other thing that does not show well in the photo is the sky was done differently and in person has a nice atmospheric feel to it. Its a soft, subtle mix of blues and purples. and lastly the sky and the sky reflection work well together I think in this one. So improvement overall. Problems? I think every artist can find fault with any of their own works. So that leaves motivation for more improvement. But compared to my first attempt I am happy with this painting.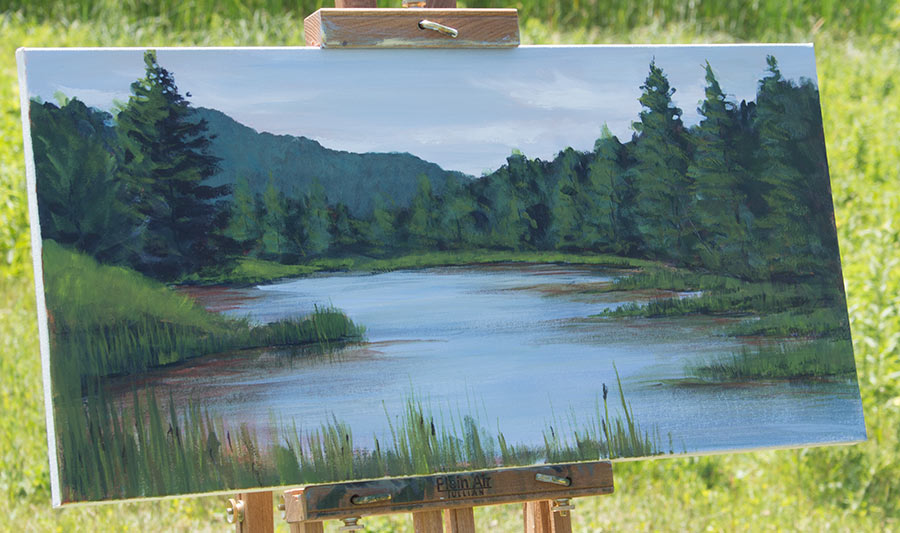 If you have a chance to participate in a plein air event, or even to attend as a spectator, its a fabulous way to interact with lots of artists and to see a variety of approaches to a particular scene. The artists all love to chat about their work and what they are doing. And seeing how they tackle problems and what they choose to paint and how to paint is very valuable as an artist. Plus you meet people you can paint outdoors with!
The actual painting I still find challenging. After a couple hours I am used to taking a break and letting a painting sit for a while, then coming back to it with fresh eyes. In an event like this you paint start to finish in a relatively short period of time. I am used to taking much more time to paint, and think, and paint some more. So this type of painting forces me to rethink my approach, stay loose, work quickly and not be as picky or critical. Well, OK I am still overly critical, but its hard to complete a sizable painting in a few hours if you are being picky and detailed.
I'll be painting outdoors more in the coming weeks, including 2-days at the Great Vermont Plein Air Paint-Out in Waitsfield. Hopefully by the time the snow flies I will see a noticeable improvement as well as raising my comfort level.
A little teaser. In the "studio" I have now completed the last of my planned 4-seasons series. I have been wanting to do a series of paintings, with a consistent theme but in all four seasons, for a long time now. So I decided a couple months ago to tackle this for the September "Art Hop" in Burlington. I just finished "Winter" and will post soon about this new series.
Cheers! Now get out there and paint!